Fiona & Dave wth Multiple Sclerosis find love on the internet!
By Fiona Davies
Last summer my life was turned upside down. My partner of 15 years ended our relationship via email. I had to move out of the home which had been mine for 12 years and move back in with my parents. I also went off sick with stress from a job which I loved as an office manager at my local council. It was a bad time. I had what I thought was a good relationship up until 2000 when I was diagnosed with Multiple Sclerosis. At that time I said to him I would understand if he wanted to end it as the illness was progressive. He said he wanted to support me. In lots of ways he did, but in many ways he changed towards me. I was put on betaferon treatment and it was mainly my ex partner who gave me the weekly injection, but I felt rough on it for several days afterwards. Many times, I felt as if he looked at me differently and because of the MS he no longer found me attractive.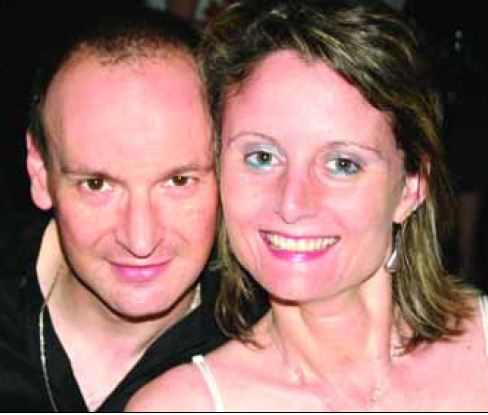 My MS Embarrassed Him
Rather than agreeing to me using a wheelchair for long trips, I was left sitting in the car while he did the shopping. Once, we used a Shopmobility scooter, but that was 50 miles away where no one he knew could see me. I felt my MS embarrassed him. One morning before leaving for work he suddenly asked if I would go to stay with my parents in Porstmouth for a while as he needed to get his head round things. I was off work sick anyway and agreed to this. Then I didn't hear from him for a few days until he sent me an e-mail to say that he had been unhappy for years, had been to Relate (who advised him not to stay with me out of guilt) and that he wanted to end our relationship. I had no choice but to stay with my parents as I was in no fit state to live by myself or to go out. Understandably I was very down and scared about my future. I did have feelings for him, although now I realise that he wasn't worth my love. It was very stressful for me at the age of 39 to move back in with my parents who are both in their 60s and sleep in the bedroom I had slept in as a child. I felt my life was going backwards.
"If it wasn't for the MS we would never have met. But both of us would rather have MS, and have each other. Our life is idyllic"
Much of the time, I was unhappy with them and their rules and felt like a child. Even my parents found my MS hard to live with. Over time things improved and it gave me a chance to get to know them better. I appreciated their kindness but still remained unhappy being there. One day, I visited the local MS Therapy Centre in Portsmouth and talked with a woman who works there called Sylvie. She told me about LDN and I was put in contact with Bob Lawrence who kindly took me on a as a patient. I can't thank Bob enough and the improvements to my MS since starting the treatment. I gladly came off the Avonex. Sylvie also suggested I join some online dating agencies to make friends. I didn't know anyone who had used dating sites and to be honest thought it a sad way to meet people! Even so, I decided to give it a go.
Fancy A One-Night Stand?
At first, all I received were emails in regular dating sites asking if I "fancied a one night stand"! Then, I keyed 'disabled dating' into my Google search engine to see what would come up – a lot! I didn't know how they worked so joined a few. My details on Whispers4u.com were brief. I listed a photo and just said: " Hi, my name is Fi and am feeling down as my partner of 15 years has ended our relationship. I have MS and looking to make friends and someone to make me laugh and Johnny Depp look-alike would be cool!" 'Dave from London' contacted me. There was no photo but he had typed masses about life and himself and how he was a regular geezer with MS. He too was approaching 40, and played guitar in a band for a hobby. There then began a courtship of e-mails and texting, eventually speaking on the phone for up to 5 hours each night. With MS, you have to date in a different way. I wasn't really into what he looked like as I fell for the person he was. But I did later see some photos of him on his band's website and thought he was cute! Dave wanted to meet but I was still emotionally scarred from the events of my life. We finally met on my 40th birthday. I wanted such a special day in my life to be significant, but it was so much more. We had the most amazing day, going up Portsmouth's Spinnaker Tower, eating a pub lunch by the water and sitting along the seafront. Dave didn't go home til 10. I said, "Bet when you get home we won't have anything else to talk about!" He texted me to say he had arrived home and if I was up to it did I want to call. I was and we spoke for 5 hours! We didn't meet again until 3 weeks later. We arranged to spend a few days together which very quickly turned into two weeks. I went back to my parents and a week later moved to London to be with him! Dave had had a few relationships over the previous 10 or so years, some great times, but nothing seemed quite right. He was diagnosed with MS in December 2004 after being in hospital with a 'mystery virus'. He went back to his managerial job but soon had to face the fact that he wasn't well enough to hold down the post. At the same time he turned to the internet for 'MS dating' and, like me, found 'Whispers4u' where he was immediately greeted by my photo and brief details. It took Dave about 3 or 4 days to pluck up the courage to send me a 'flirt' and once I'd sent a 'flirt' back he had no option but to pay the joining fee for the site.
The Most Idyllic Life
We have both taken medical retirement from work with a reasonable financial package and we have the most idyllic, relaxed life. Dave plays guitar in a band so we have plenty of gigs, sharing a love for music. With me and Dave, there's a complete understanding of each other and our MS and how symptoms, even invisible ones, can impact. Dave loves being out and pushing me in the wheelchair and makes me feel so desirable. We both find it great to be with each other with the same condition. We both tried regular relationships and they didn't work! It doesn't faze us that our condition could deteriorate. You have to live life for now and not think too much about the future. Our village in East London is a great place to live and very quiet and pretty and not how I imagined London at all. If it wasn't for the MS we would never have met. But both of us would rather have MS, and have each other. I have found my soul mate, the love of my life, and my future husband.
© - Thanks to New Pathways Magazine (Sept/Oct 2006 Issue 39) | © Whispers4u
Link: http://www.msrc.co.uk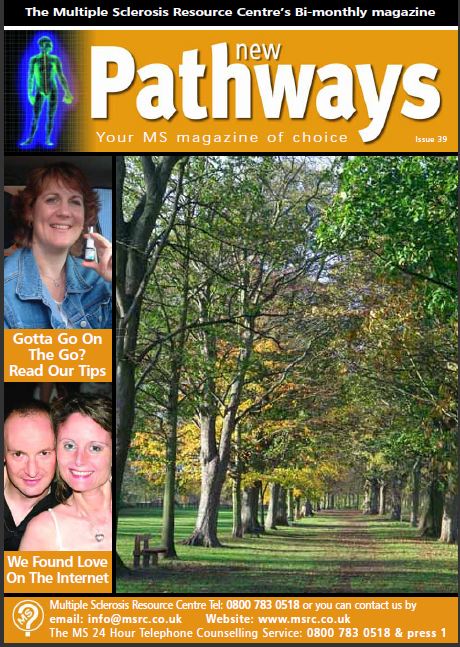 Read More success stories
Clare & Joseph's Disabled Love Story.
Fiona & Dave with Multiple Sclerosis find love on the internet!
Whispers4u help Jeanne & Ron find love!
Talesha & Craige's Whispers4u dating success story.
Brian & Leila are married after finding each other through Whispers4u.